Hamilton AI is made for the real world
– in real time
Hamilton AI is able to bring marketing into a dynamic learning loop:
1) Firstly, in the process of reviewing previous media and marketing effects
2) Secondly, in the prediction of possible effects from various media investment scenarios
3) Thirdly, in the execution of media plans and evaluation of results 
When repeating these steps, the underlying model's accuracy will naturally improve because of the platform's machine learning capabilities.
Hamilton AI gets smarter all the time with continuous updates
This learning loop and probabilistic modeling is the foundation for Hamilton AI being adaptive at all times. Always taking into account changes such as e.g. new sales targets, increased competitor activity, or more currently the spread of COVID-19. Hamilton AI is made to be nimble to the real world. Not for the real world to be force fit into a model.
The modeling itself can actually be implemented in less than six weeks. When up and running, it not only predicts new outcomes to changes in key variables in a few hours. The model can also be repurposed in a couple of days for e.g. branding effects to topline growth – or a new response variable like e.g. customer churn.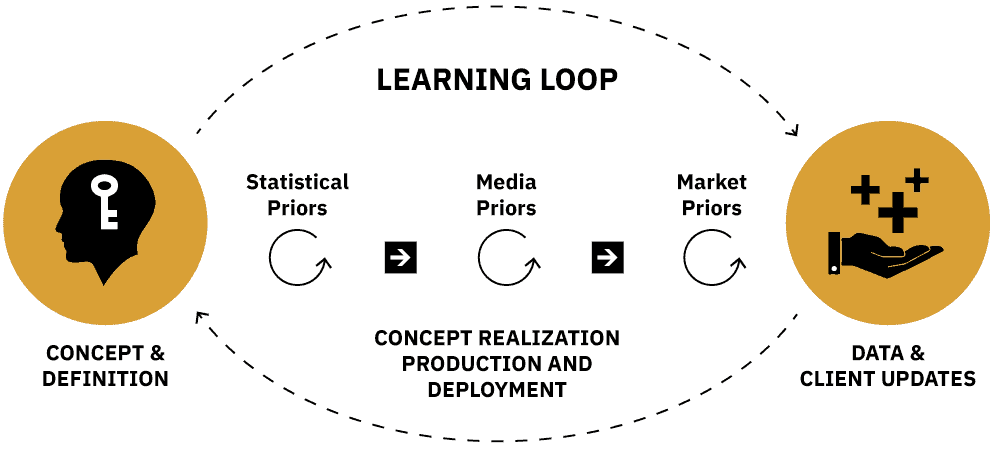 Hamilton AI gets smarter all the time with continuous updates
Hamilton AI covers the whole marketing and media planning process
The Hamilton AI platform is not just made for strategic decision-making but also for very operational purposes. These could be answering basic questions like:

1) What is the right marketing mix against current brand and business targets?
2) What is the optimal budget allocation between channels?
3) How should the optimal media plan look like down to publisher-level?
GET A BREAK-DOWN AND RANKING OF ALL SALES EFFECTS
First, Hamilton AI will create the business insights overview by decomposing total sales, showing contributions from all the media channels. However, it also factors in weather, competitor activities, season, macro-economic fluctuations etc. Media ROI is broken down on channel level TV, OOH, print, Display, Search, Social, etc. These returns can then be further broken down to individual media publishers as well.
OPTIMIZE FROM BUDGET OR SALES TARGET
Secondly, Hamilton AI lets you generate and evaluate multiple investment scenarios based on either a set budget or set business target . So either supply-driven and need to know the required marketing investment if you wish to sell e.g. X subscriptions or Y product units. Or you're more demand-driven and want to know how much you can actually sell from different budget levels.
COMPARE INVESTMENT SCENARIOS
Now you can compare your options on predicted sales volume, profits, customer acquisition cost, and ROI for various investment scenarios. When you go with any scenario, Hamilton AI will provide you with a granular and actionable media investment plan per channel and individual media publisher. This plan can then be forwarded to your media agency or taken in-house for media buying.
Once your campaign is activated and launched, it's easy to track daily media investments and sales performance against your brief. You will always be able to drill further down to publisher level for deeper insight on the sales contribution. This allows for reporting on e.g. spend, sales, profit, cost-per-sale and ROI on the individual media publisher level.