Intuitive and Interactive Dashboard
Act with agility and adjust activities to adapt to changes in your market conditions with the continuous flow of data from campaign executions. Take full advantage of having actionable key business insights at your fingertips and be empowered to drive business impact through accurately, compliantly and rapidly attribute, optimize and forecast marketing performance across all media.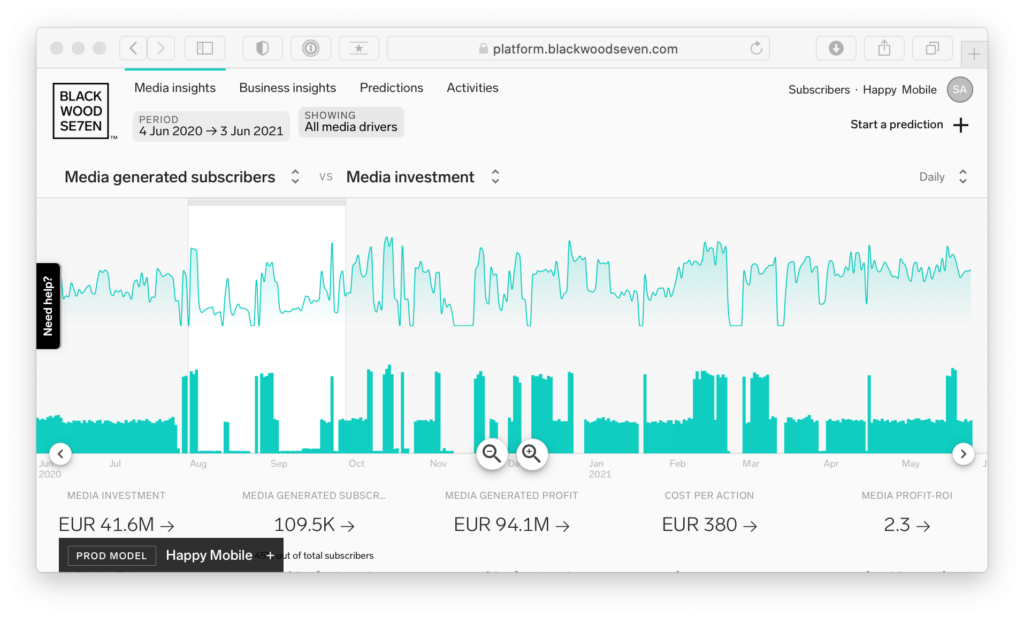 Tracking and following a campaign while it is running is easy with Blackwood Seven's interactive dashboard. It provides detailed insights on campaign performance and key metrics such as media generated sales, ROI and CPA.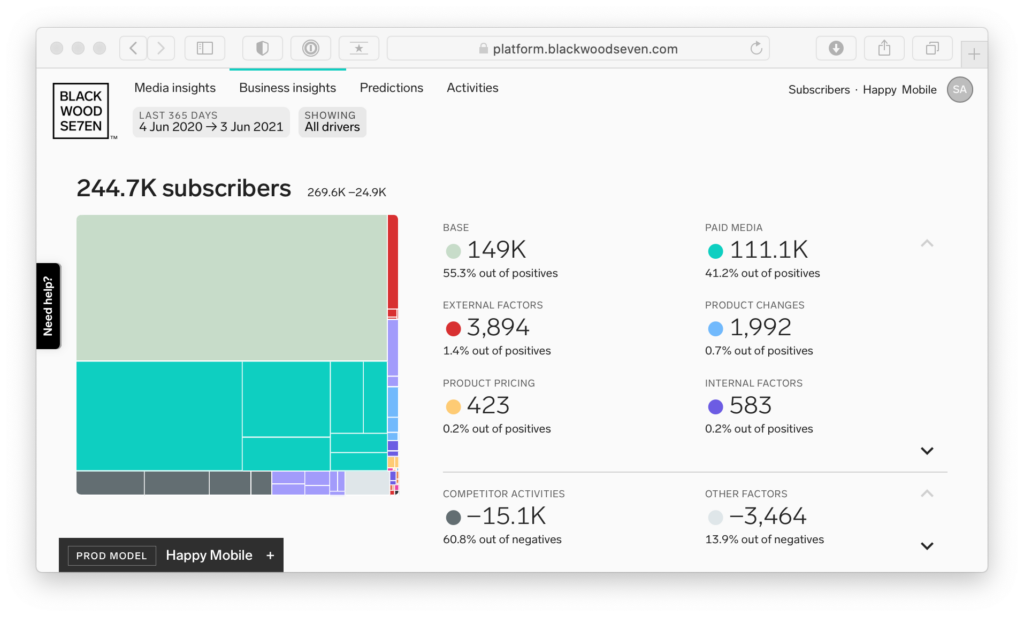 Through our holistic modeling approach we provide transparency with a complete breakdown showing the sales impact from all variables in the model ranging from company specific, industry specific and systemic factors.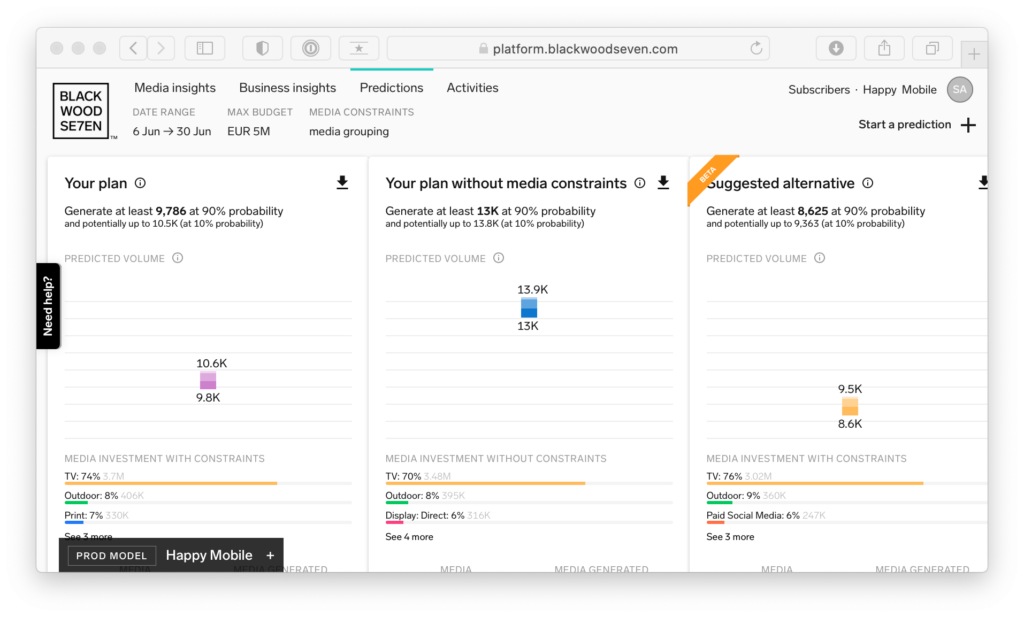 HamiltonAI considers all factors of both on- and offline media insertions, as well as the synergy between those, to provide you with the optimal balance in the channel investment mix, for executing your campaigns and optimize commercial performance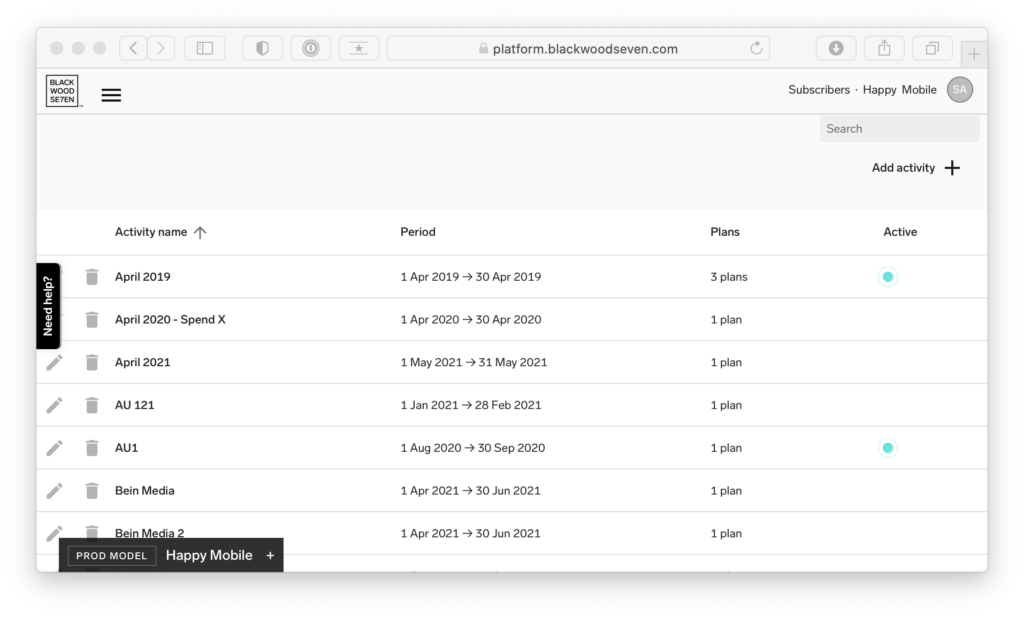 With Activities you can keep track of all your campaigns, plans and predictions. This serves as an activity log and is useful when looking at past activities. This is also where you can activate plans and campaigns for live tracking of performance.
The future of marketing analytics and media planning
Blackwood Seven's vision is to make it simple for marketeers to navigate todays' fast changing environment. To put you in control of how and where your media budget is spend and to be able to clearly demonstrate the positive effect your marketing efforts and investments are having on your company's bottomline.
Predictions are made in seconds and are based on vast amounts of data. Our technology puts brand directly in charge of managing the booking, execution and optimization of media campaigns in one unified platform.
Hamilton AI covers the whole marketing and media planning process
The Hamilton AI platform is not just made for strategic decision-making but also for very operational purposes. These could be answering basic questions like:

1) What is the right marketing mix against current brand and business targets?
2) What is the optimal budget allocation between channels?
3) How should the optimal media plan look like down to publisher-level?
Marketing Mix Modeling as a Service
Fast - Granular - Precise - Predictive
GET A BREAK-DOWN AND RANKING OF ALL SALES EFFECTS
First, Hamilton AI will create the business insights overview by decomposing total sales, showing contributions from all the media channels. However, it also factors in weather, competitor activities, season, macro-economic fluctuations etc. Media ROI is broken down on channel level TV, OOH, print, Display, Search, Social, etc. These returns can then be further broken down to individual media publishers as well.
OPTIMIZE FROM BUDGET OR SALES TARGET
Secondly, Hamilton AI lets you generate and evaluate multiple investment scenarios based on either a set budget or set business target . So either supply-driven and need to know the required marketing investment if you wish to sell e.g. X subscriptions or Y product units. Or you're more demand-driven and want to know how much you can actually sell from different budget levels.
COMPARE INVESTMENT SCENARIOS
Now you can compare your options on predicted sales volume, profits, customer acquisition cost, and ROI for various investment scenarios. When you go with any scenario, Hamilton AI will provide you with a granular and actionable media investment plan per channel and individual media publisher. This plan can then be forwarded to your media agency or taken in-house for media buying.
Once your campaign is activated and launched, it's easy to track daily media investments and sales performance against your brief. You will always be able to drill further down to publisher level for deeper insight on the sales contribution. This allows for reporting on e.g. spend, sales, profit, cost-per-sale and ROI on the individual media publisher level.
Hamilton AI comes in the shape of an easy-to-use, cloud-based solution that displays the business impact of each creative campaign and media plan. Within the platform it's possible to optimize and simulate the exact effects of any given marketing investment. Either by working from a set budget or sales target.