As branding becomes crucial in a COVID-19 recession, so does measuring brand effects
Branding has never been more important. Not just because of the overwhelming amount of impressions being served to consumers through a myriad of touchpoints. This "tsunami" obviously makes consumers want to simplify choices in a way where only the most well-positioned brands are going to thrive. Most often by having the strongest physical and mental availability to consumers.
But now a strong brand positioning is becoming even more crucial as the recent pandemic and economic recession has sparked a new consumer behavior, intensifying the competitive battleground, especially online. Several studies show that customer preferences and choices are now prone to change in an instant which means brand marketers need to up their game considerably.
Hamilton AI provides specific estimates for brand contribution to sales growth
Hamilton AI can now establish the branding effects on baseline sales
So, then the Big Question becomes: How much should I invest in branding – and where? A question that tens of thousands of marketers – and their bosses – have asked over the years. Until now it's been one of the most difficult questions to answer in marketing. Only very few has been able to really make the exact link between specific brand drivers against baseline sales.
However, by using the same Total Marketing Modelling methodology as when separating media effects against sales and combine this with consumer panel data, Hamilton AI can pin out which brand variables are contributing to business growth and where in the customer journey they're proving their worth.
Not only is this kind of brand measurement now a real possibility. By integrating the marketing and media modelling effects with the brand driver effects, you can optimize your marketing and media plans to ensure that there's enough budget for branding to secure and increase baseline sales over time. That's eventually what will increase the accumulated brand equity and as such the total value of your business.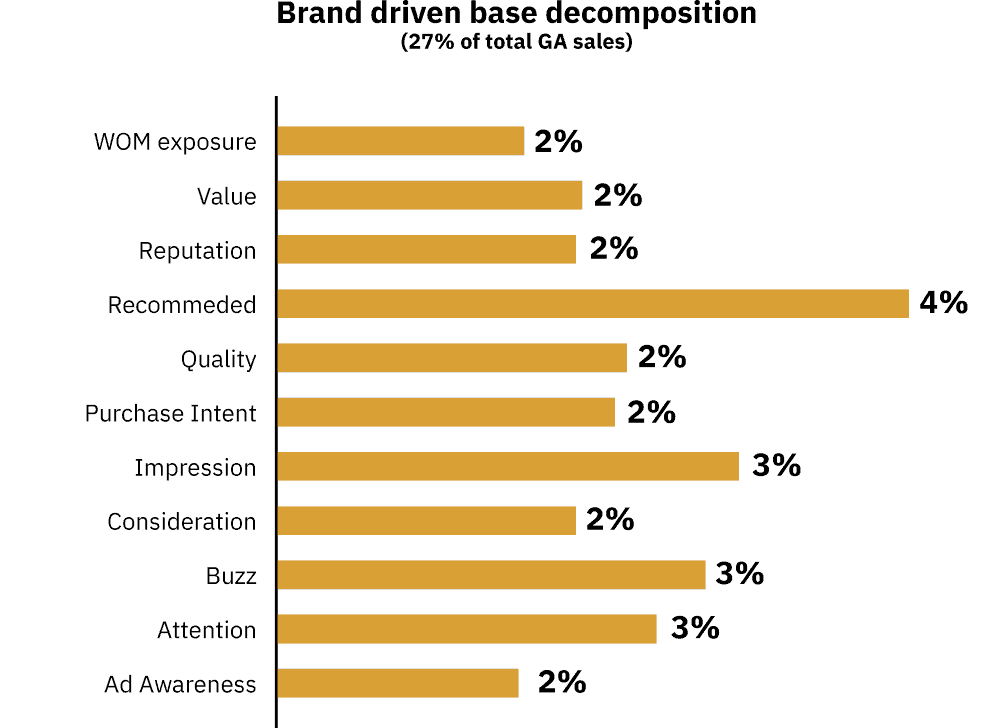 Example of how Hamilton AI can decompose all relevant brand variables to their sales effect.