Marketers often face a dilemma: how to split the available budget between conversion-focused campaigns and brand-building ones? This ratio has to continually flex in response to customer needs, demand, and many other external factors. The pandemic is a perfect example of how brands needed to adapt their marketing strategies in response to major societal change. Finding and implementing the right ratio for short-term and long-term marketing initiatives isn't easy – nor is measuring their success.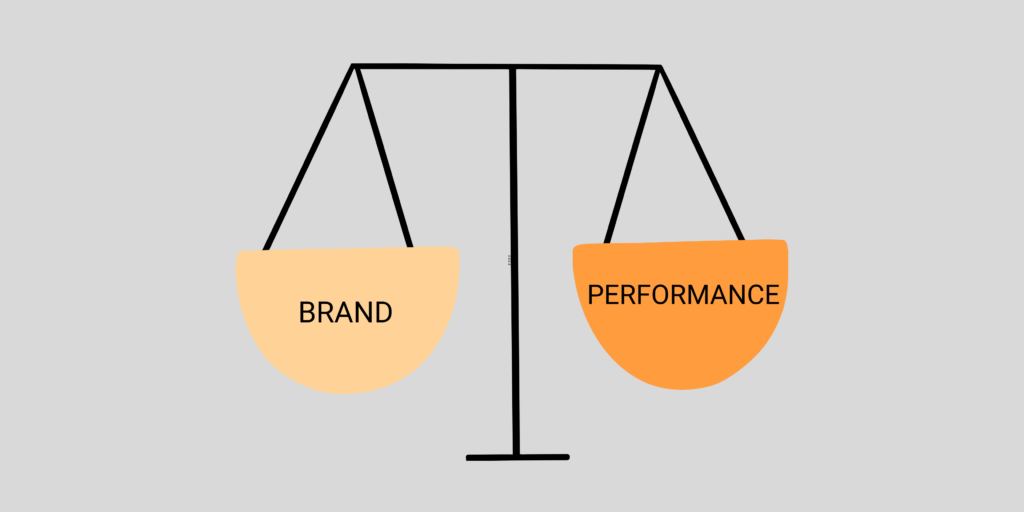 This blog post will break down the significance of performance and brand marketing, the pros and cons of each one, and discuss ways to strike the right balance between the short-term benefits of performance marketing and the long game – building a brand that will endure.
Performance marketing
A performance-based marketing strategy is what typically comes to mind when you think of ways to get quick wins for your business. Marketers spend the majority of their budgets on on-demand generation or bottom-of-the-funnel campaigns. This strategy encompasses the efforts to accomplish 'short-term' goals on a daily, weekly, or even monthly basis.
Performance marketing campaigns are highly targeted and it often means that you're only working to acquire new customers. No short-term strategy can ensure that their needs will be met after they sign up. 
According to a survey by Ascend2, 48% of marketers find that creating a comprehensive performance marketing strategy is the greatest challenge to success. In addition, CPAs can be pretty high in specific industries, and channels like Google and Facebook are expensive and competitive. Meaning it requires a significant amount of time spent on strategy. What's more, it only works with regular testing and optimization, which can be a time-consuming and laborious process, especially if done manually and not using optimization and prediction tools. 
Lastly, future strategies will also need to deal with the death of third-party cookies. This major landscape change will undoubtedly impact short-term conversion campaigns, with brands relying more on known customers than anonymous audiences.
Brand marketing
Brand marketing, on the other hand, involves conveying brand values to increase consumers' trustworthiness, credibility, and loyalty via storytelling and brand positioning. It is often measured by brand recognition among consumers, and it's about long-term success. Higher brand recognition likely results in higher click-through rates and lower CPAs, meaning more users will download, install or buy your product. While a company's identity in the marketplace can easily make or break its profitability as a whole, brand marketing is expensive and does not work on its own. 
Brand marketing campaigns don't have to drive traffic or convert, as their purpose is to boost brand strength. So, unless you have a high brand reputation within your target audience, investing purely in these campaigns is costly and doesn't guarantee results. In addition, tracking the effectiveness of brand campaigns is vague and difficult unless it's backed by continuous brand surveys.
Short term vs. long term
Performance marketing has gotten increasingly hot over the past decade as more marketing budgets are being squeezed to maximize return on investment. Performance marketing was expected to be among the least affected areas of these budget cuts. According to WARC's Marketer's Toolkit 2021, a global survey of marketing professionals revealed that most (70%) of those expecting budget cuts predict that they'll be made to brand advertising. And according to the Gartner report, CMOs are expected to continue operating with these budget cuts into 2022, as organizational leaders have settled into the ROI of the reduced marketing spend.  
Unfortunately, this proves that a lot of companies are tied up in the immediate success of digital performance-based tactics. This imbalance of focus can lead to suboptimization or overinvesting in performance-based digital marketing and underinvesting in brand building that they worked so hard to build. This means that many businesses risk damaging or even losing their brand identity. 
So brand marketing vs. performance marketing? Many marketers are masters of one type, but very few excel at the two simultaneously. It is challenging to go deep into both. However, the best marketers must and do understand the art and science of marketing and are able to bring forward foundational brand elements into communication with the consumer across every channel.
A recipe for success
It's clear that both performance and brand marketing are powerful and crucial for success. However, having performance marketing activities with a consistent brand identity and message provides a more seamless experience, leading to organic growth. This means the industry must shift from a "brand marketing" or "performance marketing" mindset to a more holistic approach.
To do so, you need the right marketing measurement tools that can quantify the impact of the short-term campaigns and brand campaigns and help you balance the trade-off between the two. But, more importantly, this approach can help you determine how to turn those insights into a longer-term brand-centric strategy.
For example, Blackwood Seven's solution deploys a more holistic approach. All the scattered and siloed data is collected from different places and allows the marketer to see the total ROI for the entire business. It enables you to measure and evaluate various key figures, typically revenue, ROI, and CPA, from different levels of marketing investments or sales targets. With our platform, one is able to attribute and predict these outcomes from simulating thousands of different media and marketing spend levels in all channels in combination with all other relevant business parameters such as distribution, product mix, pricing, brand drivers, or systemic factors like seasonality, macroeconomic indicators, etc.
Most of Blackwood Seven models contain some kind of brand variable (brand health/strength), which we integrate into our models as explanatory variables. Having a brand variable in a sales model will allow you or your agencies to see the sales contribution from the variation in the brand variable(s) and see the development in contribution across the time period analyzed. Having one or more brand variables in a model enables one to measure and quantify the elasticity of each brand variable in relation to sales – answering questions like – How much would sales be affected by a 1%-point increase in the different brand variables?
A brand elasticity analysis delivers profound insights on a strategic level, understanding which brand variables are significant in driving sales and how the business is i.pacted by increases or decreases in the different variables.
See the bigger picture
Blackwood Seven's solution allows achieving the goal of combining the worlds of brand marketing and performance marketing. We deliver a holistic actuality across multiple distribution channels that marry their common principles.   
A significant part of the marketing and media spend focuses on supporting the brand. However, the decisions are based on gut feelings due to a lack of profound analytics within this area. Therefore, the brand investment done in most companies is based on discussions around "beliefs" rather than fact-based insights.
The Blackwood Seven platform offers actionable key business and brand insights to drive business impact and optimize and forecast marketing performance across all media. Suppose both Blackwood Seven sales and brand models are in place. In that case, you can run simulations, create the optimal sales media allocations, look at a specific media mix, and then do an optimized short-term campaign and run the same media split in a brand model and look at how that actually does impact the brand strength. Furthermore, you can answer questions like – how much brand strength would we be sacrificing on only running short-term campaigns this year? Or if we invest more in our brand?, What would be the opportunity cost on our short-term sales? 
The Blackwood Seven solution provides your company with a platform that allows you to quantify the exact value of strategic considerations.
Conclusion – Be where the customer is
When it comes to long-term brand building and short-term performance marketing, you can't have one without the other. It's not just about having the tools in place to understand your consumers; it's about creating and standing by your brand messages. This gives you the opportunity to show consumers exactly where you stand and what you're about, moving them past the category of consumer targets and turning them into consumer allies. 
Without a unified approach to strategy, marketing teams will struggle to ensure that their overall strategy uses the right mix of long-term and short-term initiatives. Using a more holistic approach, marketing teams will be less biased towards short-term wins. They will be able to close gaps in their brand tracking initiatives, allowing them to better measure their impact on the brand's long-term success.
On top of that, Blackwood Seven provides an innovative and comprehensive strategic platform on which to base your decisions upon. It allows you to have different strategic considerations based on the knowledge of the exact opportunity cost of running one vs. another campaign type.